Frankly Sinatra is BACK, with a new production!
Frankly SINATRA is much more than just a concert. It's almost like a personal meeting with the most famous singer of the 20th century. His entire story is told, his heartwarming connections to Israel are revealed, and his music is brought to life.
If you love history, an engaging story, vintage film clips together with more than 20 of Frank's greatest hits performed live by a Broadway trained tenor, you will thoroughly enjoy Frankly SINATRA. Hundreds of people already have. To get into the Sinatra mood, you might enjoy our Sinatra Stories and Films Email Series. Click here to receive it absolutely free. Click here for Show Tickets
Click to learn more about…


Frankly SINATRA follows the life of the singer from his youth in Hoboken, New Jersey, through the tumultuous 40s, his great successes in the 50s and 60s, and his golden years. The topics covered include:
Frank's character traits that helped shape his life and career
How Frank Sinatra got his first breaks
Frank's extraordinary ascent to become the king of all the singers
The Mafia connections that maybe were, and maybe weren't
Frank's connections to Pres. Kennedy
The women in his life: his wives and other "acquaintances"
The crash of his career and his recovery in the early 1950s
Frank's Academy Award and his greatest hits
His retirement in 1971
Frank Sinatra, the Jewish people, and Israel… Frank Sinatra's music and movies were banned in many Arab countries. Why so? Because he was so completely supportive of Israel. In the show, Yisrael will share deeply moving stories about Frank Sinatra's love and support of the Jewish people. You will hear things that will surprise you! A highlight is the dramatic story of how Frank helped the nascent IDF get badly needed arms in time for the critical phases of the War of Independence.
In the style of a musical, all of these fascinating stories and anecdotes bring Frank Sinatra to life in a way that you may not have experienced before!
---
The Multimedia

The concert is accompanied by a video presentation that includes images of all of the people being talked about. As the program is in English, the video presentation includes Hebrew summaries of the stories being told, so that nobody should be left behind.
Most importantly, there are five vintage video clips that really bring Sinatra to life. They include his groundbreaking short film, The House I Live In, and a documentary about his visit to Israel in 1962. Some of these clips will make you laugh, perhaps cry if you are moved by beautiful and touching things, and gain very human appreciation of a larger-than-life persona.
But you don't have to wait for the concert to experience Frank in video and story! We are giving away a free email series of Sinatra performances, interviews, and stories. In it, you will go into the recording studio with Frank, you'll meet some of his friends, including Gene Kelly, Liza Minelli, Ella Fitzgerald and Don Rickles. You will learn about the kidnapping of his son, Frank Junior, and you will hear an incredibly moving story about a critical moment at a performance when Frank was 78 years old.
The best thing is, this is absolutely FREE. To sign up, click here.

---
Frank Sinatra, technically, never wrote any songs. However, his unique style and phrasing, together with his playful reworking of lyrics, makes him a cowriter of every song he ever sang. While Yisrael does not attempt to impersonate Sinatra, he brings plenty of Frank's playful energy and creativity to his performance of Frank's signature songs.
The show begins with a song entitled "All or Nothing at All." This was the song that got Frank started. It was his first megahit on the charts. But before it was a megahit, it was a complete flop. That story is told in the show. Whenever Frank would perform All or Nothing at All, he would remind his audience that "This is the song where it all got started."
More than 20 songs are part of the concert. While they are also familiar to so many of us, Yisrael performs them each with a freshness and a personal interpretation that gives them the feeling of falling in love again. Here are some of the timeless classics in the show:
I've Got the World on a String
Strangers in the Night
Fly Me to the Moon
That's Life
Night and Day
High Hopes
New York, New York
My Way
---
Audiences are LOVING Sinatra!
So many people who came to our December performances wrote to share how thoroughly they enjoyed the event!
"The show was lovely and very enjoyable. [My rating is] 5. It was great to hear the old Sinatra tunes. Learned some new info re Sinatra. Would recommend to others." Linda Y., Jerusalem

"We absolutely were enthusiastic with the Sinatra show.. What is really working is the mixing between the historical facts and the songs. That is learning with pleasure. So, for us, the show deserves a 5."
Aharon L., Rehovot

"Hi Yisrael, congratulations on your show, we absolutely loved it! Our favorite aspect was finding out Sinatra's relation to the Jewish world and Israel, we were really moved to see it had been quite an important part of his life.. for us it's 4/5, the band was very enjoyable, it was good to see young players playing Sinatra, in a very professional way. We loved the way you led the show, mixing personal stories with songs. You showed us aspects from Sinatra's life unknown to us, and it made him more human to us."
Shoshana G., Ra'anana
Back To Top
Show Tickets
---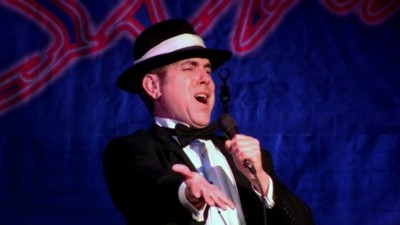 Yisrael Lutnick is a Broadway style tenor hailing from New York. He has appeared on radio and television both in Israel and in America. Yisrael trains with veteran Broadway coach Kimberly Vaughn, and regularly performs in New York's theater district. In addition to his life performances, he is a writer and composer. Yisrael created the Israel Musicals theater company in 2007, with the production of his own work, If I Could Rewrite the World.
His stage roles include Don Quixote (Man of La Mancha), John Adams (1776), Gus the Theater Cat (CATS), and Juan Peron (Evita). His one-man shows, performed extensively in Israel and in America, include The Broadway Rabbi, Frankly SINATRA, and Rosenblatt & Gershwin.
Haim Tukachinsky, musical director and pianist, is an award-winning musician. His theater credits include conducting musicals such as The Sound of Music, Seussical, The Producers, Singing in the Rain and more. In Frankly SINATRA, Haim conducts the five piece Israel Musicals Ensemble. For a taste of Frankly SINATRA, click to play the promo video below:
"One of the reasons I loved the show as much as I did was that (Yisrael) Lutnick wasn't impersonating Sinatra! Instead, he was sharing his heart, his soul, his voice, his acting, his talent, and bringing Frank Sinatra's music alive through his gift." Kimberly Vaughn (Broadway performer, producer, director and teacher).
"(Lutnick possesses) excellent singing and acting skills .. a real stage animal." Haim Noy, The Marker.
Get Tickets For a Show!
Performance Schedule:
There are three ways to get tickets in advance (and save -tickets at the door may cost 5 NIS more):
2. Leave us a reservation and we will call you. Use the form below:
3. You can also call us at 077-450-6012 during business hours.
© 2017 Israel Musicals. All Rights Reserved | Design by W3layouts