The great musical of leadership and independence,
1776
"..the performances were fine, the singing professional, and the spirit downright revolutionary." (israelity.com)
".. if you like old-fashioned, wholesome musicals, 1776 will do the trick. And it provides a reminder of what real leadership really looks like, a timely tap on the shoulder in these trying times. "(David Brinn)
"The costumes, brought in from New York, were excellent! The direction was solid, fascinating and extremely well-paced, despite the fact that some scenes were very long and wordy. The director carefully differentiated each character, and we learned of their unique personalities through their behavior, speech and movement." (Eli Bikoret)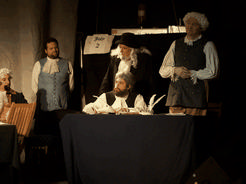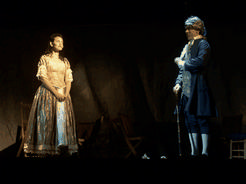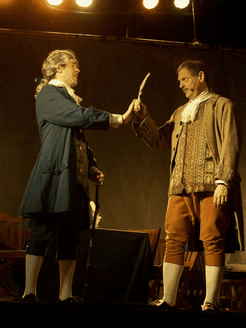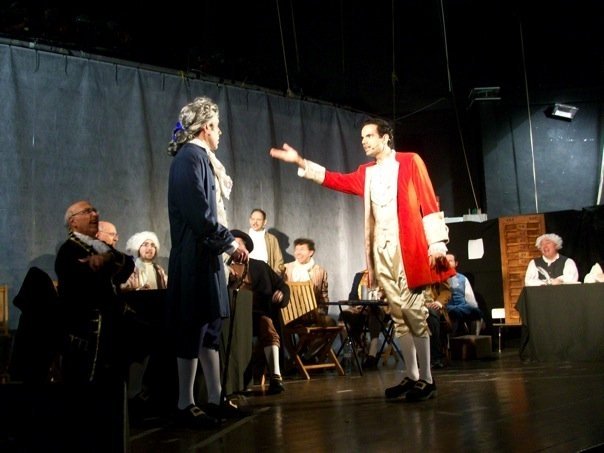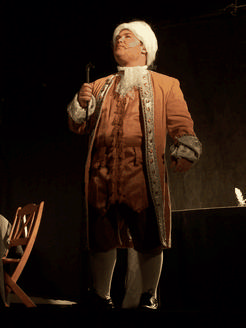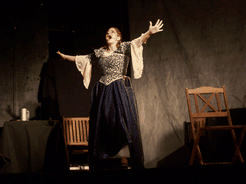 The Show and The Cast and Crew
Music, lyrics, concept by Sherman Edwards
Book by Peter Stone
Directed by Bathsheba Garnett
Musical Direction by Asaf Finkelstein
Starring Yisrael Lutnick as John Adams, Marc Zell as Benjamin Franklin, Ricky Fleischer as Thomas Jefferson, Andrea Rae Markowicz as Abigail Adams, and Moshe Trapido as John Dickinson. With guest appearance by Isaac Sutton as Rutledge.
"Farther I could find it in my heart to wish that you had been at the head of a hundred thousand Israelites... andmarching with them into Judea and making a conquest of that country andrestoring your nation to the dominion of it. For I really wish the Jews again in Judea an independent nation."
- John Adams, second President of The United States (in a letter to Mordecai Manuel Noah in 1819).

Special thanks to the Edwards family for your support. Visit their site, the official site for 1776 for more music and videos from the movie and other productions.
1776 was a truly singular event in Israel. A professional English production of a classic Broadway musical with a seven week run. But even more importantly, a STATEMENT, bold and powerful, of the courage to lead based on principle, and demand justice and freedom despite all odds.
From the family of the composer:
Dear Mr. Lutnick,
I received this email from my brother Keith, and was delighted to hear about your production of "1776". Thank you for your kind words and enthusiasm about the show, and about my dad Sherman and writer Peter Stone.
I know that they both would be as thrilled as Keith and I are to learn that "1776" is being produced in Israel!
I want to wish you and the entire cast a successful run and a packed house every night!
Warmest regards,
Valerie Edwards
The Cast and Crew of 1776
Elazar Brandt (Chase) is the founder and leader of the Doctor Jazz Dixieland Band, who perform regularly and are known for commiting senseless acts of simchah.
Mory Buckman (Witherspoon) was appearing in his first theatrical role in 1776.
Jason Elbaum (McNair) is a software engineer with a theatrical passion.
Benny Firszt (Bartlett) made his debut with Israel Musicals production of 1776.
Ricky Fleischer (Jefferson) is either onstage in a show, or he can be found fixing computers and answering e-mails at Answers.com.
David Gindis (Courier) is a singer/songwriter.
Dale David Boccaccio Honor (Wilson) A writer & poet, with professional stage experience.
Ilan Jaffe (Hall) made his stage debut in 1776.
Yisrael Levitt (Hancock) is a acting physician, and a physician who acts.
Yisrael Lutnick (Adams, producer) is the founder of Israel Musicals and a performing singer, actor and composer.
Andrea Rae Markowicz (Abigail) [AEA, AGMA] has toured the USA with the National Tour of CAMELOT starting Robert Goulet.
Harvey Narrol (Hopkins) has been busier than ever in choirs and musicals since arriving in Israel in 1979.
Lauren Phillips (Martha Jefferson) came to Jerusalem to study hazzanut but ended up diving head-first into the musical theater scene.
Ross Plotkin (Hewes).
Don Radlauer (Livingston / Assistant Music Director) has a 30-year history of singing and acting - from Baroque to Barbershop.
Josh Runyan (Thompson) 28, is a professional journalist.
Stephen Simpson (McKean)conducts a local synagogue choir and runs the www.shulmusic.org web site.
Isaac Sutton (Rutledge)produced and stars in "Broadway & All That Jazz" and "Las Vegas – Tel Aviv" – Two musical shows that are being performed at the Cameri Theater in Tel Aviv and on tour across Israel and abroad.
Moshe Trapido (Dickinson) is from a talanted musical family, having inherited a love for music and theatre.
Neil Turetsky (Rodney) when not on stage, he dabbles at being a psychologist and english teacher.
Tom Weiss (Sherman) an actor, a correspondent, an athlete, a political activist & a diplomat.
Jordan Zell (Lee) is graduate of the Hebrew University theater studies program.
Marc Zell (Franklin) is a regular commentator on U.S. politics and law on Israeli television and radio.
Bathsheba Garnett (Director) is an OCUFA award winning acting teacher who has worked with the industry's best directors and companies.
Asaf Finkelstein (Musical Director) is a graduate of The Berklee School of Music in Boston.
Tamara Mielnik (Choreographer) is a reknowned choreographer who's dance troupes regularly perform in Israel's most prestigious venues.
Malka Stroh (Stage Manager) made her stage management premiere with 1776.
Reviews of the our production:
Dear Yisrael,
Please share this with the cast and crew.
I cannot begin to tell you how much I enjoyed 1776 last night. It was extraordinary.
It had been a hard day for us in Gush Etzion yesterday, due to the murder of a teenager by a terrorist, but I didn't cancel my plans to go to your play, because it was the last performance. Also, I remembered how we had made a rule in our own productions, that we would not cancel rehearsals or performances on the day of a terrorist attack, because then the bad guys would have won.
The actors were superb and I was amazed at how each of them succeeded in creating his character and in staying in character throughout the play, especially since there were long stretches on stage when some of them were not doing anything very active. The singing was outstanding. The choreography -- minimalist though it was – was perfect. The fact that the set did not change (except for a few chair moves and flipping the day on the calendar) throughout the show, yet did not become boring, was quite a challenge, yet at no point was it boring to look at because the action carried it. The costumes were of course wonderful. The music was excellent. There were many little touches, that my director's eye picked up, that contributed to the quality. My compliments to all the dedicated thespians and musicians involved in the production, and of course especially to the directors and producers. And kol hakavod, as always, for encouraging young and emerging talent.
As for the content – it sent me home thinking, which is what good theater is supposed to do. I found many enticing pieces of information, but the most striking one, to me, was the one about removing the anti-slavery clause, and the discussion about how 100 years from now, they'd pay for it, which they did, of course, in the Civil War. This engendered a discussion among us in the car going home – I said, "Look, like with coalition deals, or politicians making decisions for their own personal reasons that afterwards a whole nation pays for," and someone else pointed out that the representative from South Carolina was not just one man, but was representing many others who thought like him at that time. I wondered if Civil War would have broken out right then, 100 years earlier, if they had kept in the anti-slavery clause.
My point here is not what really would have happened, or could have happened, but the fact that we were moved enough by the content to discuss it and to care about it, and we learned something new. This is, in my opinion, the real indication if a dramatic work has succeeded – if it resonates later, if it engenders not just enjoyment or emotion in real time, but thoughtfulness afterwards.
Naturally the post-bow thank you's, etc., were special, and it was very moving to have the presence of Shula Cohen pointed out to us. Also, it was the first time that I was at a production, other than our own, at which Hatikva was sung at the end. This time I was in the audience, not on stage, so I finally understand what it feels like when women tell us that they cried during the singing of Hatikva.
I never would have expected to feel tears on my cheeks at the end of an "American" play, but the combination of the play itself, the comments on Shula Cohen, and Hatikva, especially in the wake of the morning's tragedy, combined to create a very moving ambiance.
It reminded me of another recent personal event. I was in the U.S. with my daughter and grandchildren last autumn. They got citizenship on Nov. 4, American Election Day. Afterwards, I went to the cemetery to visit my father's grave. He is a WWII veteran (Army, Signal Corp) and was a very patriotic American. There seemed to be a kind of gentle irony on getting U.S. citizenship for his Israeli grandchildren on American election day, and afterwards visiting his grave, and thinking about how he fought for an ideal, and how we were continuing that ideal, albeit in a different land. I remember, at his levaya four years ago, how surprised I was when I walked into the funeral parlor and saw that they had placed a folded American flag at the head of his coffin. I didn't realize that was de rigueur, even in Orthodox funeral homes, for U.S. war veterans. As someone who is by now a dyed-in-the-wool Israeli, I would not have expected to have been as moved as I was by seeing that triangularly folded flag. There was only one flag of course, so my brother and I agreed that he should take it. "I have an Israeli flag at home," I said.
The play last night, also, reminded me that even though we here in Israel feel sometimes so isolated and insular, there are or were others out there who also did what they had to do to obtain freedom.
Thank you and chag sameah,
Toby Klein Greenwald
Theatrical Director, The Raise Your Spirits Summer Stock Company (www.raiseyourspirits.com)
We got home at 2:30 AM, but it was worth it. My wife and once again made a weekend in Jerusalem (actually this time in Efrat) in order to attend the latest Israel Musical's show "1776".We attended last night's March 22 performance and then drove home to Hatzor Haglilit.
Well, you guys were great. We loved Man of La Mancha, unfortunately never got to see Sound of Music - combination of Murphy's law and scheduling problems- so when I got the email about 1776 I vowed not to miss it. I'm glad I didn't. Besides your lead as John Adams, your companion Dr. Franklin was superb, and the singing of Abigail simply amazing... I was especially impressed with the singing - especially the rather dramatic - and difficult - "Molasses to Rum to Slaves" which the Rutledge character did very well.
I don't know how many fans you have in the rather distant Galilee, but we know of at least 2 - my wife and I! We'll come again, even if it means leaving Jerusalem at 11:30 - like last night- and getting home between 2:30 and 3AM.
Israel Musicals is worth it!
We all LOVED the performance!!! What a rare treat!!! We're still singing the songs! And still smiling!! Kol HaKavod to the entire cast and staff for a job really, really well done!! Many thanks from our entire family and the happy audience!
Such fun, and just a phenomenal performance. The kids were so over the moon about it. They have been humming the songs all through Shabbat! We felt that this performance rivalled the original Broadway soundtrack.
The costumes, brought in from New York, were excellent! The direction was solid, fascinating and extremely well-paced, despite the fact that some scenes were very long and wordy. The director carefully differentiated each character, and we learned of their unique personalities through their behavior, speech and movement. The music was pleasant and catchy, although the show has no well-known songs.
To see or not to see? This is a musical with very good ingredients, well performed and directed with attention to detail. English speakers will enjoy it, as will hebrew speakers with good translation system.
I traveled from Netanya to Raanana to see the Broadway musical 1776 last night and had a very enjoyable evening.

Do your kids/grandkids/self . and these dedicated performers and organizers a favor. Go out and enjoy the theater.

Anyway, congratulations to the crew and the cast. You did a fine show.
"Last night we had a rare night out to enjoy the popular musical '1776': nearly three hours of spellbinding portrayal of the long debate leading up to the Declaration of Independence, filled with suspense, high emotion, soul-searching, accusation, glorious music, patriotism rising amidst the growing need for the colonies to make a united break from England and declare themselves a new nation, and the very high risks involved in doing so.
"The cast is a very accomplished one indeed, and we heartily recommend families, no matter what country of origin, spend an evening of delight and inspiration. The show provides rich material for thought-provoking conversation and reflection.
We wanted just to tell you how much we enjoyed 1776. You were awesome, totally in character..great projection and bichlal it was a super event. All in all it really moved me .. and when those tears swell in my eyes you know that you produced a gem. I was really moved by the storyline. Behatzlacha..what a show.
From israelity.com, by David Brinn:
English language theater is often hit or miss in Israel. There's certainly a plethora of English production companies around the country, with JEST (Jerusalem English Speaking Theater) and the Light Opera Group of the Negev (LOGON) being two of the most established (evidently you need a good acronym).
A newer player in the field is Israel Musicals. After putting on shows like Man of Lamancha and The Sound of Music, the group is currently featuring the venerable Broadway extravaganza 1776.
I remember seeing the movie as a young teen when it was released way back in the '70s, and thoroughly enjoying it, so it was without trepidation, I took some of my own kids to the production's Jerusalem debut.
Kind of timely, with our own coalition back room negotiations in full swing, the musical exposes in an affectionate manner the behind the scenes tug and pull leading up to the writing and signing of the Declaration of Independence in the summer of 1776 in Philadelphia.
The audience at the Gerard Behar Center was a pretty homogenous collection of middle-age to older observant American immigrants. It's likely that most of them don't know Hebrew well, and to get out and see a quality musical in English is a real treat.
Featuring a cast of amateur and professional American/Israeli actors and two actresses portraying the wives of John Adams and Thomas Jefferson, the show was a little long, but the performances were fine, the singing professional, and the spirit downright revolutionary.
1776 will be playing around the country through March. It's not going to make you forget about Broadway, or off-Broadway, but if you like old-fashioned, wholesome musicals, 1776 will do the trick. And it provides a reminder of what real leadership really looks like, a timely tap on the shoulder in these trying times.
Pictures from the production