ANNIE - The National Touring Production
The beloved Broadway Musical, which promises that "The sun will come out tomorrow," With a cast and crew of 35 actors and musicians, the show was just brimming with energy. Annie ran in March 2010 in four cities in Israel.
Pictures from the production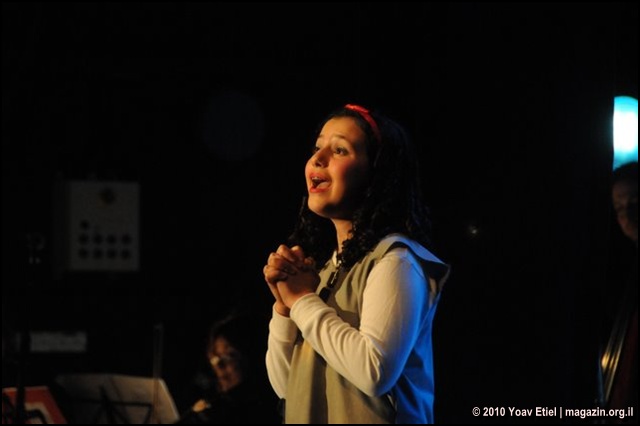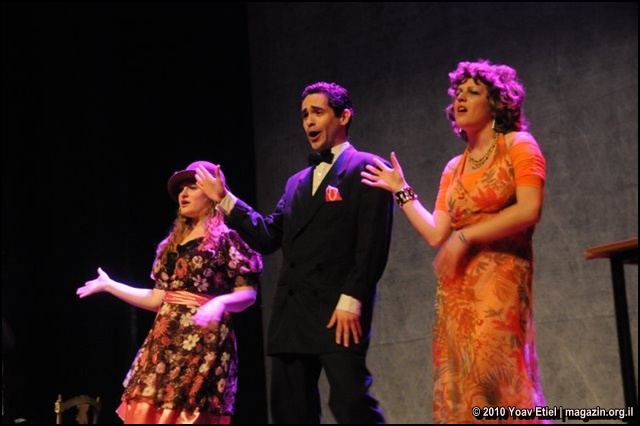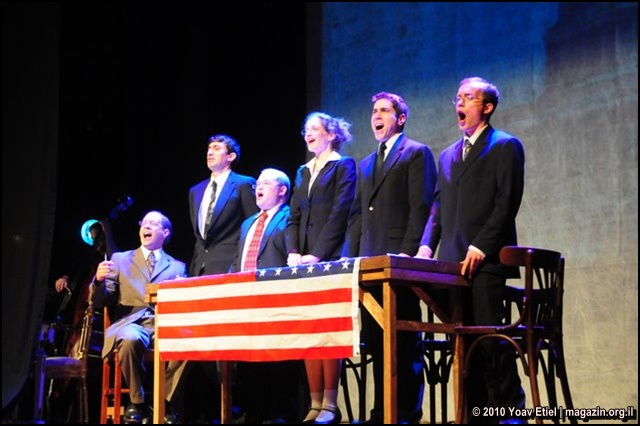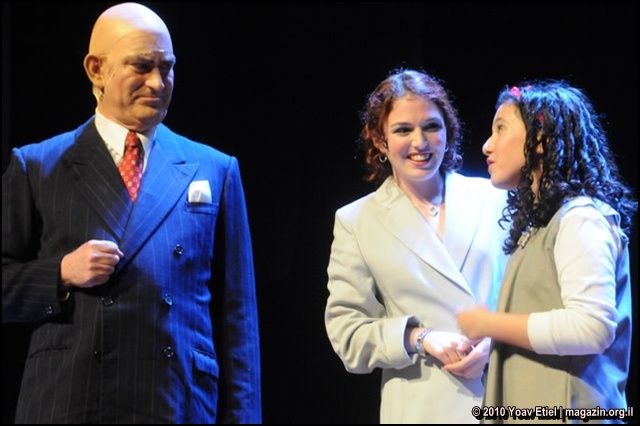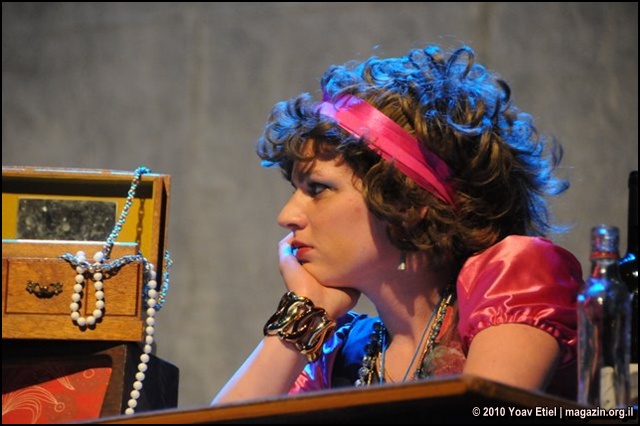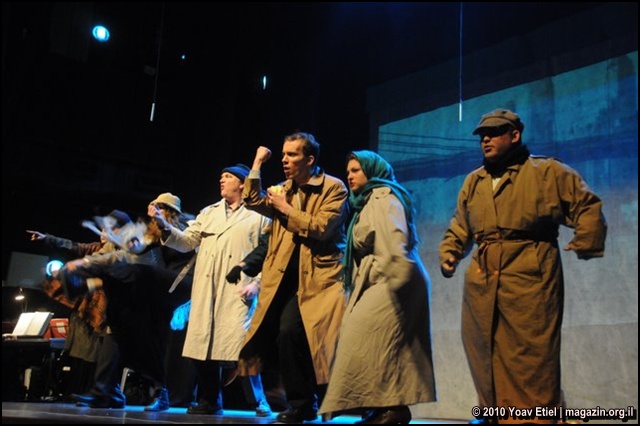 The Show and The Cast and Crew
Book by THOMAS MEEHAN, Music by CHARLES STROUSE, Lyrics by MARTIN CHARNIN
Director: Yisra'el Lutnick
Musical Director: Amy Bart
Choreography and Staging: Shuky Hoffman, director of Mechola
Costumes: Leah Toren
Production Manager: Stacey Maltin
Tech Director: Felix Shaposhnik
Accompanied by the Israel Musicals Orchestra, with the Alon Stern Ensemble
The Cast:
Einat Azulay (Mrs Greer, Broadway Wannabee-NYC) has been singing, dancing and acting since childhood. She studied in Beit Zvi and the Jerusalem Academy for Music & Dance.
Mimi Borowich (Mrs. Pugh, Hooverite) loves singing her heart out with her a capella group Kolture Shock, and has sung solo in Lincoln Center and Carnegie Hall.
Amanda Brief (Miss Hannigan) graduated from Cornell University in May, and made her Israeli debut doing Miss Hannigan's shenanigans!
Sarit Brown (Lily), acts and specializes in makeup and styling, and is proud to be part of Israel's English speaking spectrum of theatrical productions.
Benny Firszt (Harold Ickes, Hooverite) has appeared in Rent and The Accomplices, and does standup and music.
Shira Knopp (Pepper), has years of studio experience recording songs and narration for the English language teaching company UPP.
Leah Lipsey (Annie) has sung in several school performances and plays a mean flute.
Yisrael Levitt (Drake, Hooverite) is a family physician who has appeared in many productions.
Stacey Maltin (Grace Farrell, Production Manager) attended New York University Tisch School of the Arts for drama.
Nosson Kohn (Louis Howe, Radio Announcer) acted in Nike's feature film "Nothing But the Truth" and also starred in 3 Jewish Impact films.
Yisrael Lutnick (Bert Healy, Cordell Hull, Staff, Director) discovered his passion for musical theatre at age 8, when he saw 1776 in upstate NY.
Racheli Ozeri (Duffy) was born and raised in New York City and has been on her way to the stage ever since she could walk and talk.
Sarah Pardes (Tessie) was born in Brussels, Belgium, and has been dancing for years at the Flic Flac dance school of Belgium, where she also took theatre classes.
Hallel Rabinowitz (July) loves to dance, sing, act, and do art projects.
Shira Saffern (Molly) made her debut in the production of Annie The Musical at 9 years old.
Marnie Schamroth (Hooverite, Cecille) made aliya from Baltimore to Ramat Bet Shemesh when she was 6. She has been involved in theater from a young age.
Ronit Shuler (Francis Perkins, Connie Boylan, Annette) has worked in media and entertainment, and performed as a singer/dancer/actress in various venues.
Naomi Weissberg (Kate, Understudy Annie), age 11,was born into a musical family. .
Tom Weiss (President Roosevelt, Lt Ward), a native New Yorker in the full sense of the word, is an actor, a correspondent, an athlete, a political activist & a diplomat.
Ayden Yager (Me Too) is older than the youngest in the cast by only one day.
Tomer Ze'ev (Rooster) is a 2009 Beit-Zvi graduate, a qualified singer, performing classical and modern musical styles.
Jordan Zell (Bundles, Wacky, Henry Morgenthau, Staff) is a graduate of the Hebrew University theater studies program.
Marc Zell (Oliver Warbucks) is a practicing international attorney and commentator on American politics and law, Marc returned to the stage several years ago and has since appeared in numerous productions.
Amy Bart (Musical Director). A pianist and music educator from the New York area, Amy has served as musical director for the Barrington Stage Company's children's theater program.
Shuky Hoffman (choreographer) is the founder and director of the respected Mechola Dance Centers and Mechola Dance Troupe.