The story, the choreography, and, oh my goodness, the music! It's magic.
Pictures from the production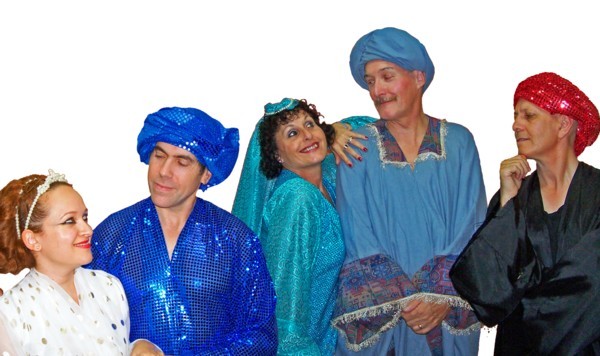 In 2011, we presented a staged concert of this classical music lover's musical. The songs are the soaring romantic melodies of Russian composer Alexander Borodin. And This Is My Beloved comes from his String Quartet No. 2. Gesticulate comes from his Symphony No. 1. And, of course, Stranger in Paradise is from the Polovetsian Dances.
The Show and The Cast and Crew
Kismet is much more than just the music. It's a musical Arabian night, filled with humor, romance, bloodthirstiness and happy endings. It was chosen Best Musical at the Tony awards of 1954. our production lacked a set, but made up for it with beautiful costumes designed by Andrea Sirota, choreography by Rosa Howden and musical direction by Eliah Zabaly. The performance was directed by Yisrael Lutnick.
Heard on the Tamar Yonah radio show: "I really enjoyed it.. the singing was really, really nice. Tamar Geist .. was terrific. That woman can sing.. she was amazing!"
Stephen Howden - Hajj
Tamar Geist - Marsinah
Yisrael Lutnick - Caliph
Zvi Goldfeld - Wazir
Rosa Howden - Lalume
Yisrael Levitt - Chief of Police
Neil Turetsky - Omar Khayyam
Elazar Brandt - Jawwan
Assaf Berznitsky - Dancer
Stacey Maltin - Samarhis
Inbal Rosenberg - Zubbediyya
Katie McCants - Ababu Princess
Erin Howden - Ababu Princess
Miriam Wartski - Ababu Princess
Esther Cohen - Widow Yussef
Aliza Ben Moha - Citizen
Walter Bingham- Beggar
Who is the only 18th century classical composer to win a Tony award?
Not everybody knows that classic songs such as Stranger in Paradise, And This Is My Beloved and Baubles, Bangles, and Beads, come from Kismet. Not everybody knows that Alexander Borodin is the only 19th century classical composer to win a Tony award! This musical theater masterpiece has so much to love.
Here, check out some of these samples of the magic that is... Kismet!
The classical music lover's musical