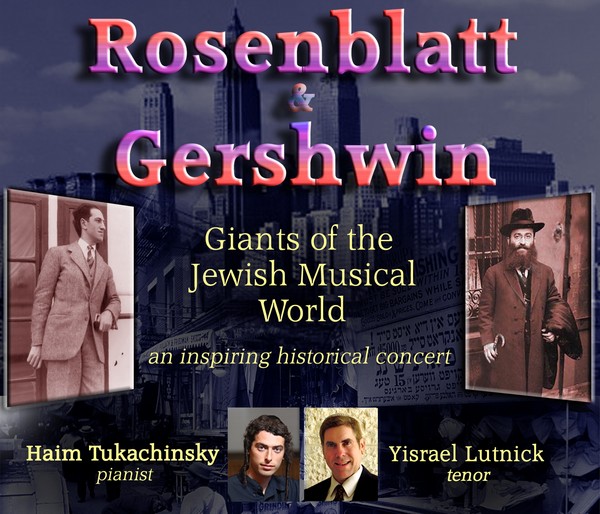 Rosenblatt and Gershwin: An Inspiring Historical Concert
Two vastly different men who conquered a continent. George Gershwin and Yossele Rosenblatt were the giants of the Jewish musical world of the 1920s and 30s. One, the son of recent immigrants, became the toast of the town, the king of Broadway. The other, an immigrant himself, was feted by presidents and opera greats for bringing his Jewishness to America's greatest stages.
It is hard to believe just how big Yossele Rosenblatt was, even, and maybe especially, among non-Jewish audiences. When was the last time a non-Jewish culture critic came to write a rave review of a Yom Kippur service, taking place in one of the most historic venues in Chicago? When Yossele was singing, that's when. Yossele's art was legendary, as was his piety. Learn all about how he refused an offer-he-couldn't-refuse, how his generosity was his undoing, and about how he became the uncontested King of the Cantors.
Gershwin became the King of Broadway at an incredibly young age. His rise to prominence was meteoric, as his talent was so far beyond anything the New York scene had seen. He achieved the incredible feat of bridging the worlds of popular and classical music. His fans included Ravel, Stravinsky, Shonberg and Rachmaninoff. He wrote some of the most haunting, fun and inspired music of all time. And he left us far too soon.
Yisrael Lutnick tells their riveting stories with humor and reverence, while singing an eclectic mix of Yossele's chazzanut, George's songs, and a touch of opera. Jerusalem pianist Haim Tukachinsky accompanies the event.
Make time stand still as you experience the exuberance of the youth of American Jewish music.
Tickets are on sale! Click here