Rewrite the World, an exciting new musical, a vibrant Jewish story for every human being to love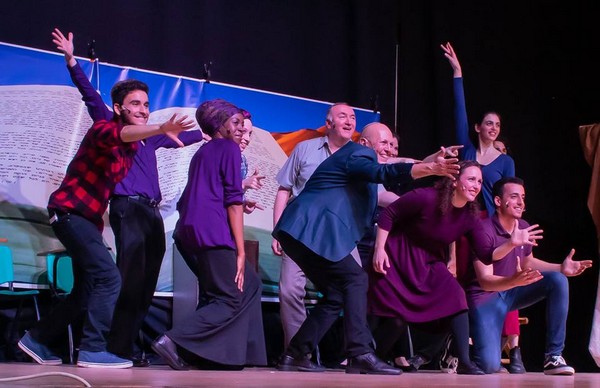 "The play may be unknown...
but it is bursting with energy, humor, music and dance – powered by musical director Tom Zilbershteyn, choreographer Rosa Howden and a cast of talented and enthusiastic actors, such as Yossi Mark, the lead, who will also be singing backup in Eurovision Song Contest this year...
"Are you bold enough to venture out to the theater to experience a fresh and original play? Odds are that – like us – you'll be glad you did." - The Jerusalem Post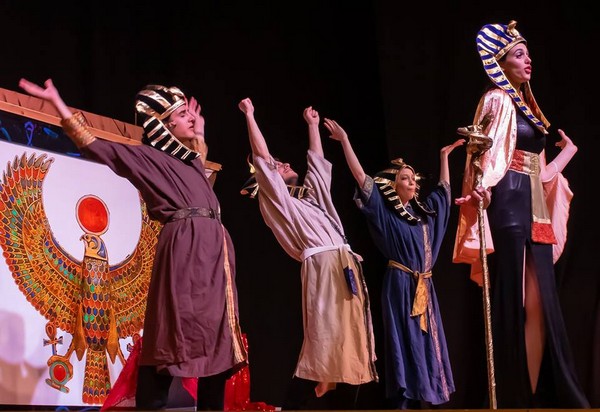 An Accident
"
I bought tickets to your Rewrite the World show by accident
. I thought I was buying [Another Show]. I love Broadway shows and the classic musicals and quite frankly, because of my experience with people here who think they have a lot more talent than they actually do, had I known this was an original new show, I would have never taken a chance in going to see it.
Having said that, the story was fantastic! The acting was great! The singing was on key & beautifully harmonized! I was thoroughly impressed!!!" - Mark C.
The Story of Aaron Cohen and His Heroism
Joseph and the Amazing Technicolor Dreamcoat, by Andrew Lloyd Webber, tells a favorite Biblical story with lots of catchy and humorous music. Dear Evan Hansen, the Broadway hit, tells the story of a young man who finds himself in a position to make a huge difference to a family in crisis.
Rewrite the World, our new musical by Yisrael Lutnick, combines both of these in a touching modern story about a young man named Aaron Cohen. The role of Aaron Cohen (AC) is played by a very special person, Yossi Mark, who just had the experience of a lifetime by singing backup on Team Israel in the Eurovision! Just coming to see and hear him is worth it.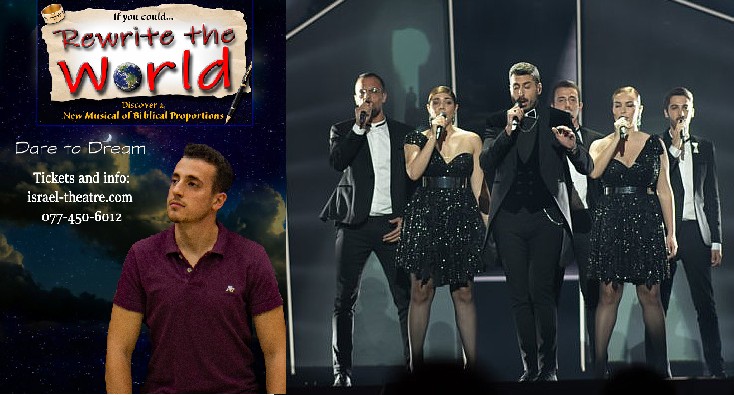 On his journey, he ends up discovering what true friendship is and, the most important lesson, the importance of forgiving.
Meet the Characters, and are they ever characters!
Aaron Cohen (AC) is a sensitive young man. He was adopted at age 7 by the Cohens and attends the Ezra Dolinsky Jewish Academy, a traditional community school. Oh, and does he have an imagination! He will need it and use it to attempt to save the world and his own life. You see, his parents have problems...
Rabbi Bergman puts the ice into Cool. He enchants his class, and makes them groan with his Dad jokes. At night, in AC's imagination, he becomes Biblical Aaron, Moses' big brother. And that's when he shares the secrets of love and peace..except when he crashes and burns at the critical moment. What he discovers after that is something worth living for!
Bert Cohen is AC's adoptive father. He's musical, he's funny, and he can be quite nasty. The way he sometimes speaks to his wife is atrocious, but it doesn't come from a bad heart. It comes from not handling a tragedy of long before. What AC attempts to do to heal him is ingenious, delightful and simply heroic. But will it work?
Sheila Cohen is AC's adoptive mother. She's beautiful and totally theatrically talented. As a matter of fact, when the story begins, she is about to return to the stage in a new musical. And this, more than anything, sets Bert on edge. The more she's out singing and dancing, the more their marriage frays. Who will save them? Maybe AC?
Korach believes in Me (Korach). What a great leader he will be, even if he can't even spell his own name. Lost in the desert? Feeling abandoned? Not to worry, Korach's here. He'll take you in to the Promised Land!
Jon and Alicia Green are classmates of AC, but their twin-hood is limited to sharing a birthday. Alicia is studious, adorably funny with a slight foot-in-mouth tendency, and kinda attracted to this boy with the crazy imagination in her class. Jon, however, takes too many walks on the wild side and was transferred to the Dolinsky Acaemy to get him away from the bad influences of his "friends" in public school. The impact that AC will have on him is staggering!
Rewrite the World poses the question of just how much can one individual do to change the world? Can the Bible be used as a magic wand to heal all ills? It touches on important topics such as divorce, adoption, grief and healing, failure and forgiving.
And... is it funny? Yes!!!
---
The Music of Rewrite The World
"The music of Rewrite the World is brilliantly written and planned. The music itself is very diverse, with songs in different genres, including uplifting disco, soulful ballads, marches, gospel, bluegrass and even a bit of rap. Despite the large variety in styles, all of those differences feel entirely necessary and connect it all together in some strange way.
"Throughout the play, similar motifs and melodic phrases pop in and out of the different tunes, making us feel as if it is all familiar to our ears (in a good way). You can tell that the music is written not just for the sake of showcasing good songwriting ability, It is all there to a specific purpose. and that purpose is to help enhance the story, in a way which only good music can.
Yisrael Lutnick managed to capture the essence and sound of the best broadway productions and take it to a personal place. This Musical has a sound of its own, and together with the great choreography by Rosa Howden, the experience will undoubtedly be memorable. I am certain that anyone in the audience will leave the theater humming the tunes for days!"
Tom Zilbersztein, Musical Director
© 2017 Israel Musicals. All Rights Reserved | Design by W3layouts